Version 4.7 of Folder Marker is ready for your download! Check the ability to customize the folder tag names, faster icon search with color filters, adjustable view size of the icons, the increasing number of supported image formats, much easier work with the command line, and much more.
Plus, a special offer at the end of the article…
This update is free for those who bought Folder Marker on October 12th, 2021 or later. Please click Help->About in your Folder Marker to check if you can update for free to the latest version or if you need to pay an update fee.
---
What's new in the 4.7 version. Detailed list.
---
Customize the Text Tag Names Applied to the Folder with the Icon
Along with the icon, the Folder Marker also changes the text tag of the folder. This not only allows you to quickly identify folders visually by icon or color but also allows you to sort and filter them. Read more here. In version 4.7, we added the ability to change these tags.
For example, imagine you mark your work folders with blue, family-related documents with violet, and photos with gray. Instead of "Blue", "Violet", and "Gray" tags, you can arrange "Work", "Family", and "Photos" tags instead. So, through time, you don't need to remember the meaning of each color and can intuitively filter/sort folders by tag names.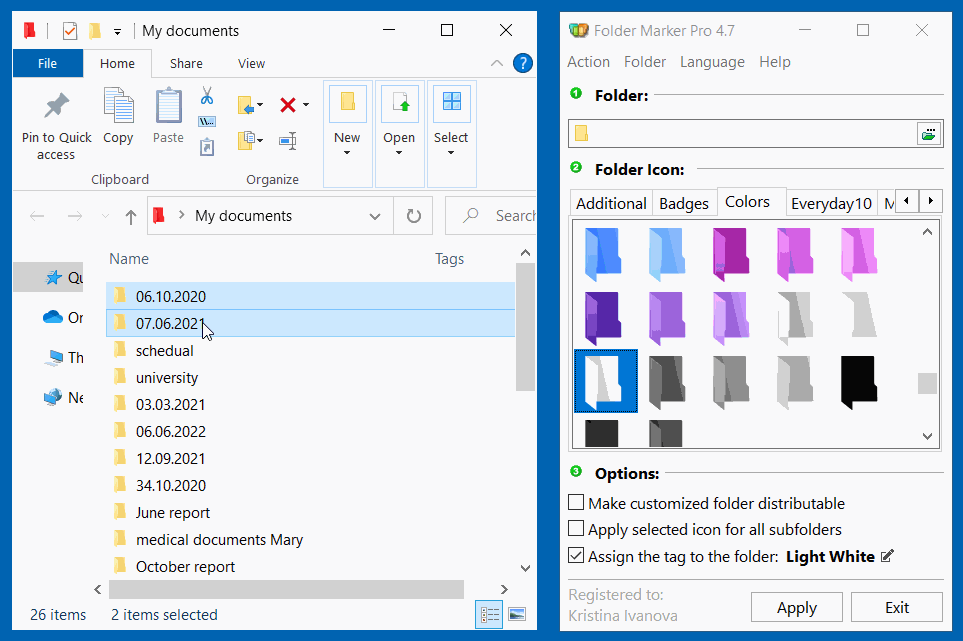 ---
Find needed icons much faster in big icon sets due to Filters
In a Pro version, you will have a built-in Color filter in the Letters&Numbers icons (ABC Tab). Also, such function is in Badges, Two-color, Numbered folder icon sets that you can purchase here.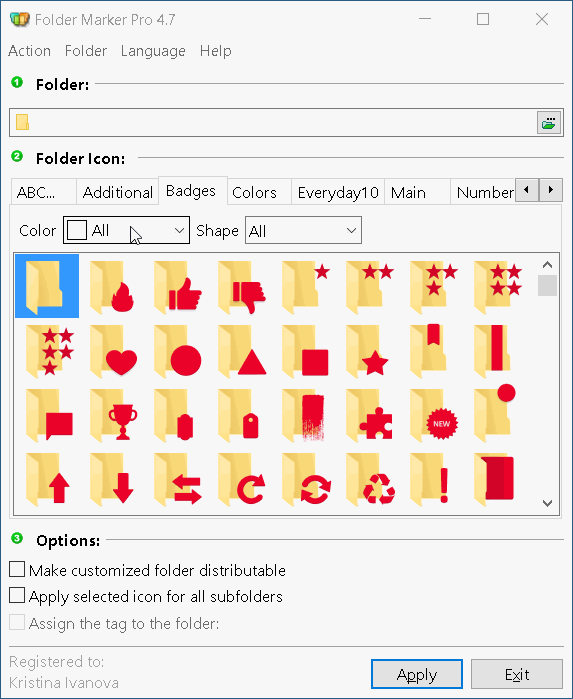 ---
Big icons in the main window
The icons' size in the Folder Marker's main window becomes adjustable. Choose from 16×16 to 256×256. This makes working with Folder Marker on the big hi-res screens much more convenient. You requested this feature. We did it.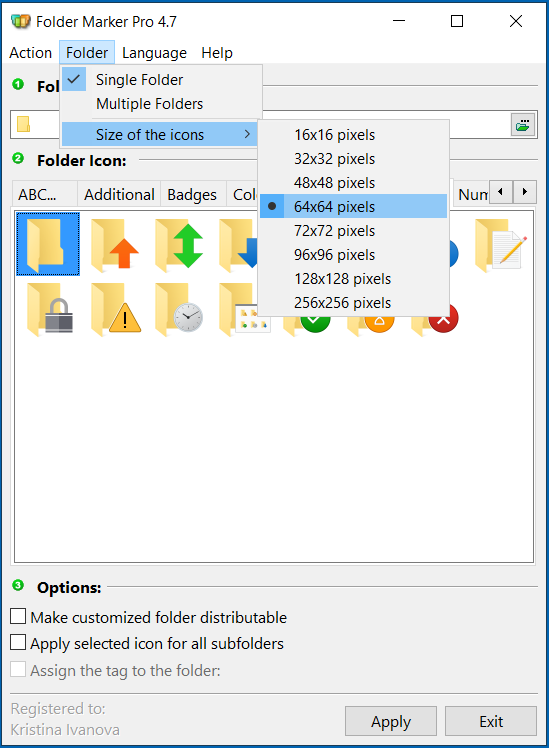 Plus, you can press the Ctrl and move the mouse wheel to reduce or increase the size of the icons in the Main window.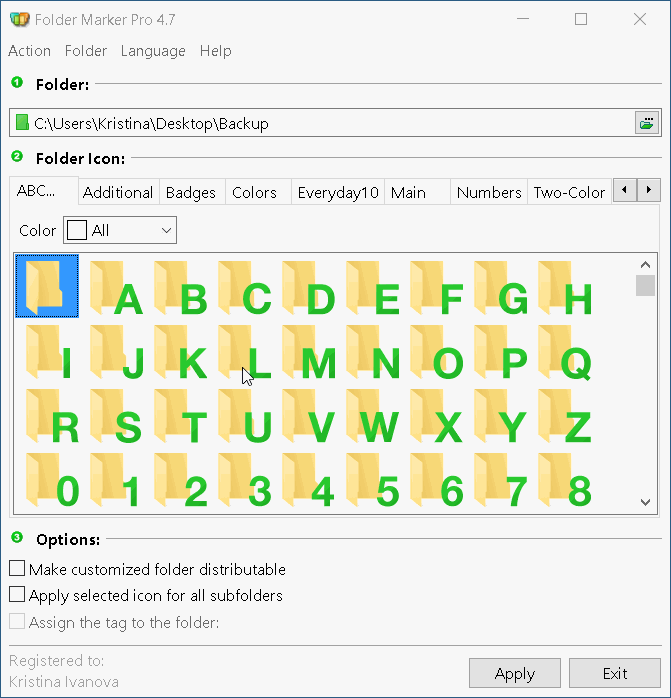 ---
Use almost any graphical file as a folder icon in the Pro version
Now in the Pro version, you can use 90 popular image formats to customize your folder icons. Not only ICO, ICL, or JPG&PNG, but also camera RAW files, iPhone HEIC files, and many more. You can check the list of all supported image formats here: What image formats does Folder Marker 4.7 allow to use as folder icons? Full list.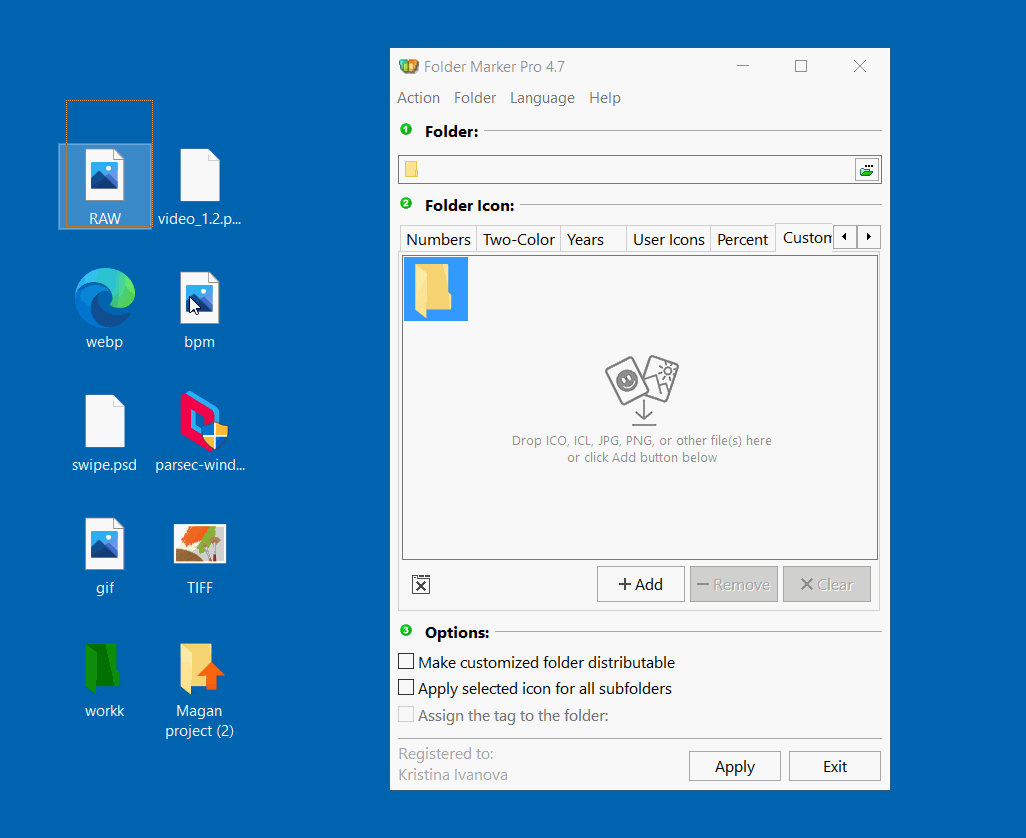 ---
Backup-Restore Function improvement: Restore Customizing Data with Name Corrections
For example, you backup your Work folder with all subfolders to move it to another device. With the updated Backup-Restore function in Folder Marker, you can also move all your colorization, even if the Work folder on a new device is stored in a different path. Use the new "Apply replace rule" feature and replace the path from the previous device to a new one.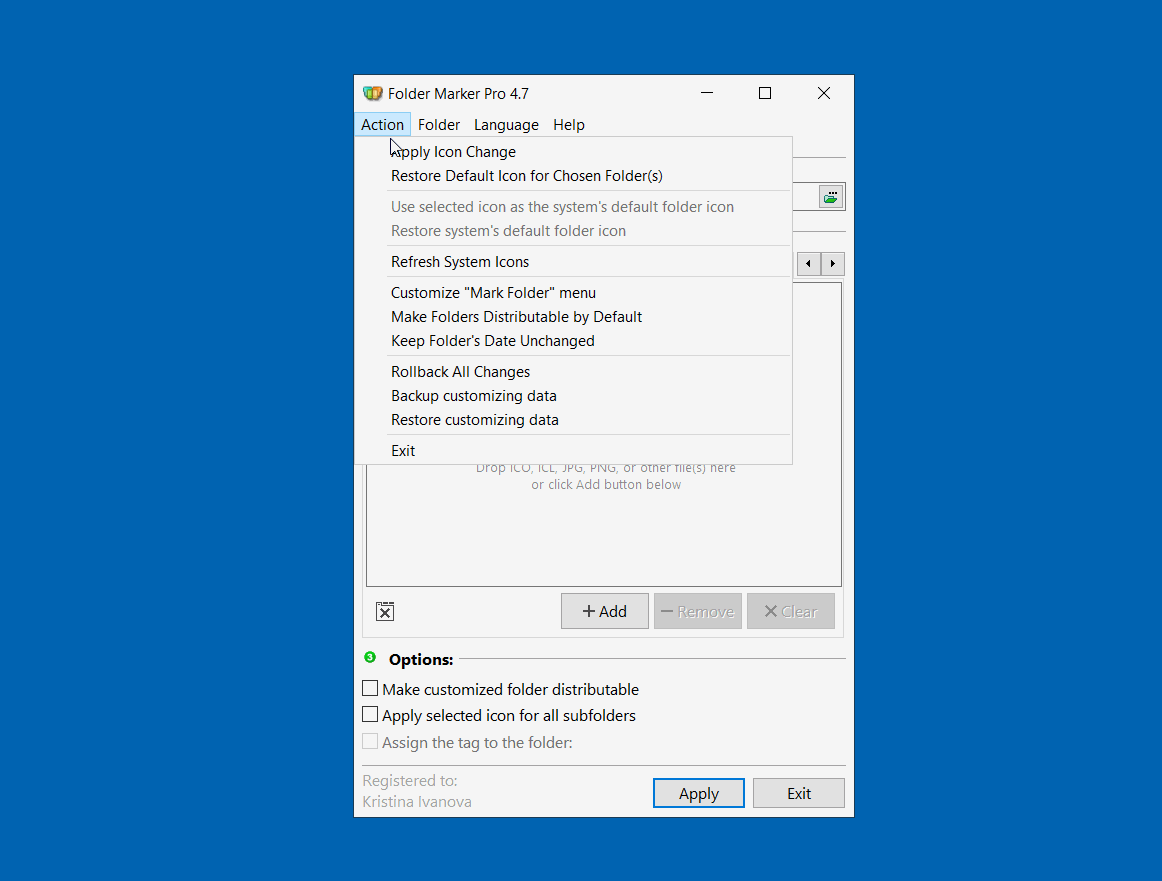 ---
Additional 12 color choices for Letters&Numbers Icons in Pro version
Now in the Pro version, the Letters&Numbers icon set (ABC tab) has multiple color choices on Windows 10 and 11. We have added: red, orange, brown, yellow, lime, azure, blue, pink, violet, white, gray, and black letters and numbers. Plus 432 icon choices at all.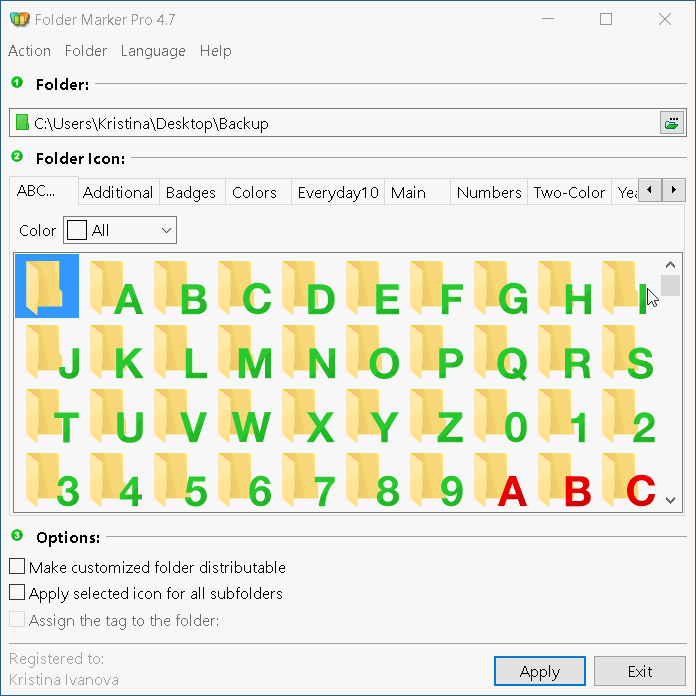 ---
Smart Drag-n-Drop
Drag-n-drop on the Folder Marker's main window works much more knowingly:
if you drop folders and icons or pictures, it will add folders to the folders list and icons to the icons list.
the Folder Marker will automatically switch to Multiply Folders mode if you drop several folders on a form
you will not see the error message if you drop the folders you already have in the list
All these changes make a Drag-n-drop-way of working with Folder Marker really convenient.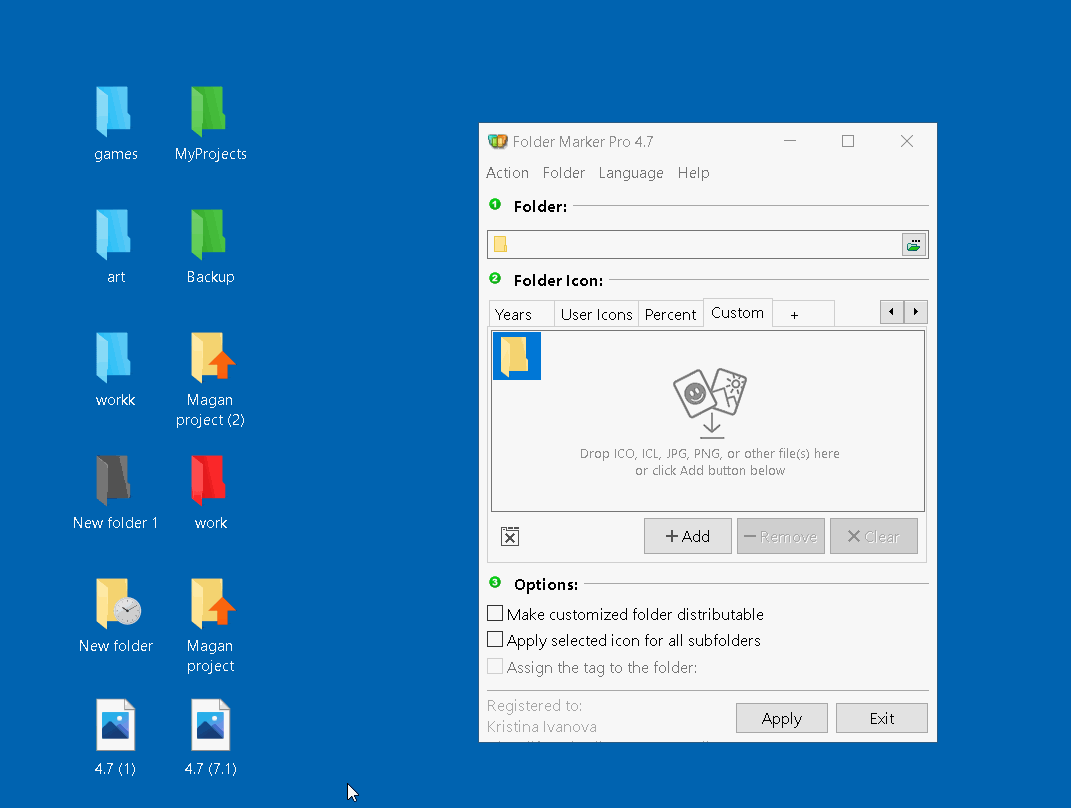 ---
Initial folder icon in the folder's list
You can see the initial folder icon in the Folder field. This gives a better understanding of what you will customize and when the customization process is finished. A simple touch, but it makes work with folders comfortable to track.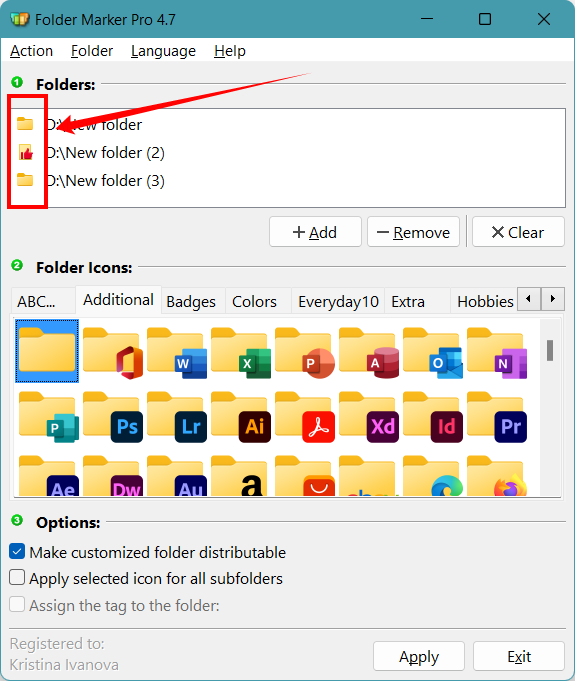 ---
Get help on Folder Marker's commands in the Command Line
Did you know you can colorize your folders using Folder Marker and the command line? This allows you to program your own script or BAT file with colorization. And now, writing such a script is much easier cause you can get help on how to work with Folder Marker by command line right in… command line :). Just type
"%FOLDER_MARKER_DIR%\FolderMarker.exe" /?
command, and you will see all the commands you can use to manage the Folder Marker. This update is for you if you use a command line while working with a computer.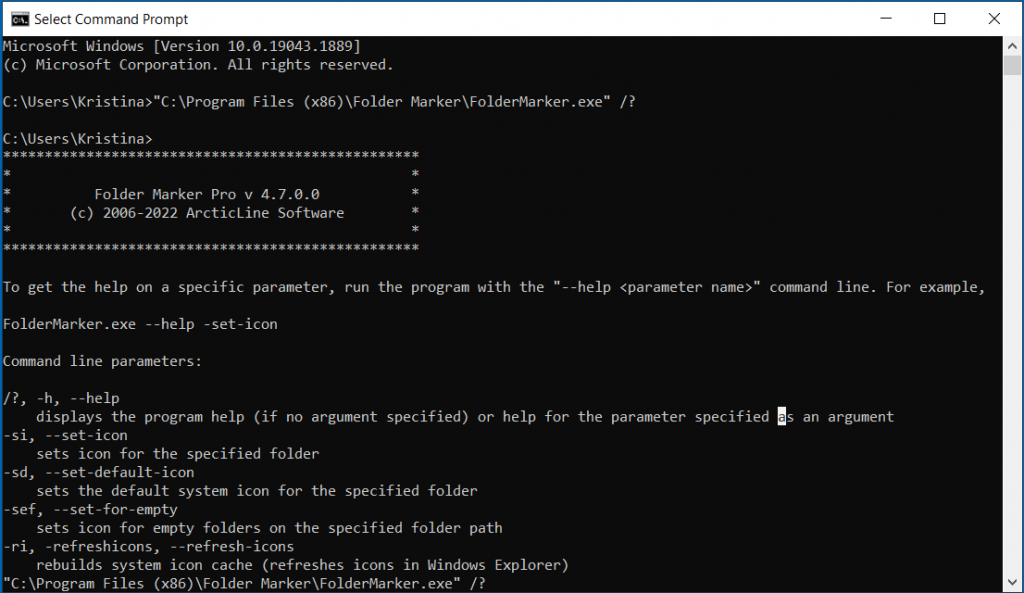 ---
Folder Marker Pro Understands Relative Paths in scripts
Now Folder Marker Pro understands relative paths when writing a command line script. So you can write like "..\..\CustIcon.ico" or ".\CustIcon.ico" instead of the full path to the icon.
---
Even more improvements:
UX improvement: in Multiple Folder mode, you can add several folders at once for customization by Add button. No need to do it one by one.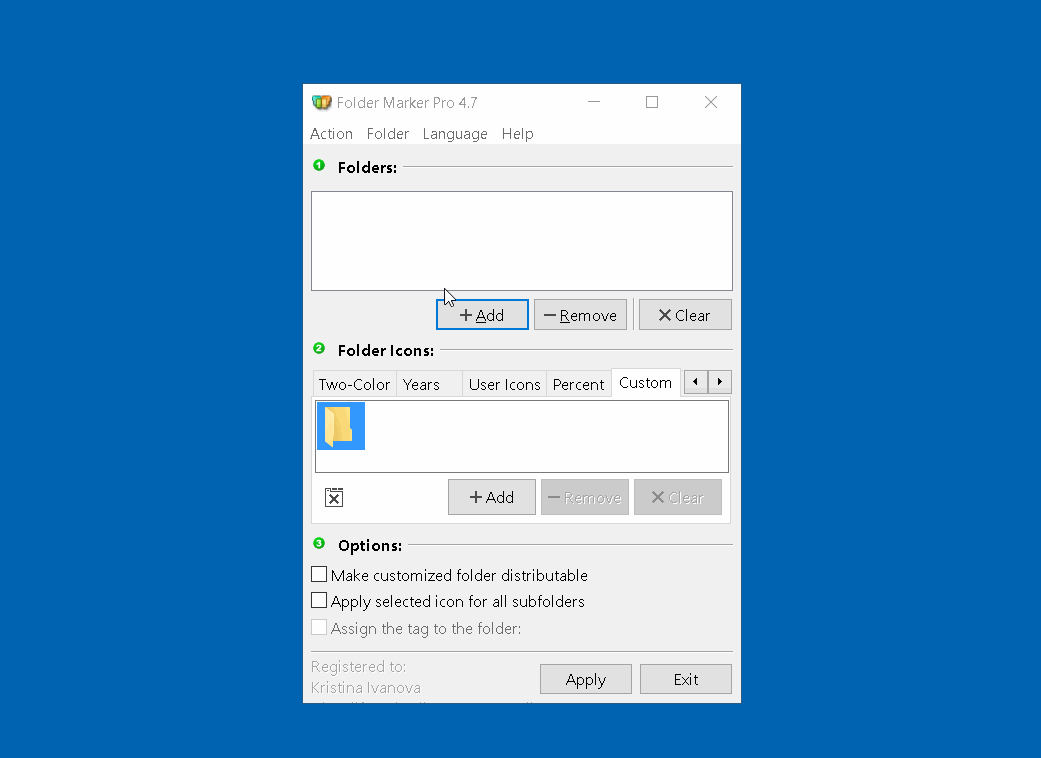 UX improvement: Mark Folder menu customization process is more accessible now. No need to press Save again and again when changing the name or the item's icon in the menu. Just open the "Customize Mark Folder Menu" window, make the needed changes and click Save to see the changes you made in Windows Explorer.
UX improvement: save the Folder Marker Window position at the same place after closing the utility. It also works with several monitors and corrects that position if you remove a monitor. Plus, now it saves the maximized state of the window between sessions.
UX improvement: the Progress bar is now shown if you change many folders with the Mark Folder popup menu.
UI improvement: Open File dialogs are the same and modern all over the application.
UX improvement: you can close all the dialogs by pressing the Esc key on your keyboard. This makes the software more intuitive for those who use keyboard shortcuts to speed up their work on PC.
Tag names are automatically generated for icons that don't include the file extension on the Custom tab.
---
Bug fixes
Incorrect work of the software with folders with commas in the name
"Index out of bounds" in the Free edition if you add your icon to empty Custom tab from ICO file
"Keep Folder's Date Unchanged" option didn't work if you changed the folder icon via the "Mark Folder" menu
"Mark Folder" item name was not translated after the interface language change
The quality of the icons created automatically from Image files is better now — no dark edging in the icon
Memory leak and crash of the Windows Explorer menu if you used Folder Marker intensively
Admin rights requests didn't work correctly. This causes problems if you have tried to customize folders in Program Files or other system folders.
The program checks if a file with an icon exists in your system when you use the command line script with Folder Marker
If you installed the Pro edition above Free, your Mark Folder menu showed broken
If you change a Category name in the "Customize Mark Folder menu" window, the name is saved with #CAT# symbols
Error if you tried to customize folder with BMP file and "Make customized folder distributable" option turned on
"Cannot open file" error if you set "Category without icon" checkbox and then unchecked it back during editing of Mark Folder menu
Backup\Restore worked wrong with folders with Unicode symbols in the names
Crash of Backup customizing data dialog if you have many customized folders on your PC
Crash of the program if you tried to customize a folder with a path longer than 250 symbols
* Other small visual improvements and bug fixes.
---
Why is it worth updating?
More convenient work and faster searching with the new features you asked about: the ability to customize the Tag names applied to the folder, adjustable icons' size, and filter in big sets by shape/color.
Use your photos as folder icons. Now Folder Marker understands 90 image formats.
Additional 12 color options in Letters&Numbers icons in the Pro version. More ways to organize advanced folder structure.
Improved work with a command line.
Dozens of minor UX\UI improvements and bug fixes that make your work with Folder Marker even more comfortable. We considered your requests and improved the things you are asking us about.
This update is free for those who bought the Folder Marker license on October 11th, 2021 or later.
All users have a standard 30-day trial in the new version, even if the trial time in previous versions has already passed.
To celebrate the release of version 4.7 of Folder Marker, we give a 40% discount for the Folder Marker license/update, and a 30% discount for all other our products till October 30th . For example, you can take Folder Marker Pro with 40%-off and Percent Icons Set with 30%-off.
Click and see what you can get>>
P.S.
During the download of the new version of the program you can see a blue Windows SmartScreen like this: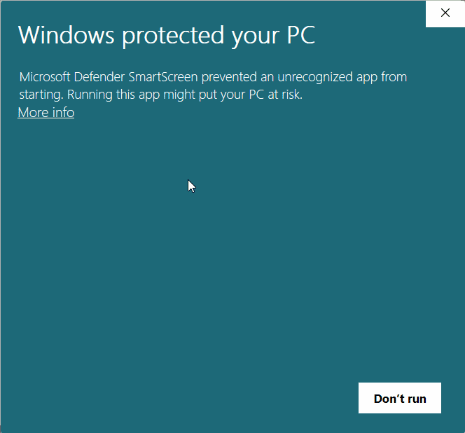 This is the expected behavior of Windows. It indicates the file was not downloaded by many people (that is logical, cause this is a new version we just released). After we collect a couple of thousands of downloads, this window disappears.
Click More Info, then you will see the Run anyway button. Click Run anyway to start the installation of the Folder Marker.
---