When you work with a stack of papers and files for genealogy, you need to organize them in comfortable way. One of the most effective methods is color-coding. In this article, we'll describe a few options for organizing all your genealogical documents by marking them with different colors.
What is color-coding, and why is it useful?
If you've ever picked up a color marker or selected something with a color, then you've already seen color-coding in action. You can make any diagram, graph, table or document more visible with the help of various colors. The system has a number of advantages:
One look is enough to find the right document, which saves time;
You won't confuse similar files or surnames;
You focus on a particular segment of the study;
It's a universal way to label everything, from paper records to electronic ones;
All files look not only organized, but also beautiful (perfectionists especially appreciate it).
The question now is how to build your color-coding system so it works best for you.
What are the color coding systems for genealogical files?
There are at least 3 color-coding systems you can use to compose your family tree.
1. By lines of relatives
This is the most well-known system, founded by Marry E.V. Hill.
The classical system is as follows.
Color-coding is performed on 4 lines of the family tree:
A blue color to indicate your grandfather's relatives in your father's line;
Green to indicate your grandmother's relatives in your father's line;
Red to indicate your grandfather's relatives in your mother's line;
Yellow to designate color your grandmother's relatives in your mother's line.
It looks something like this: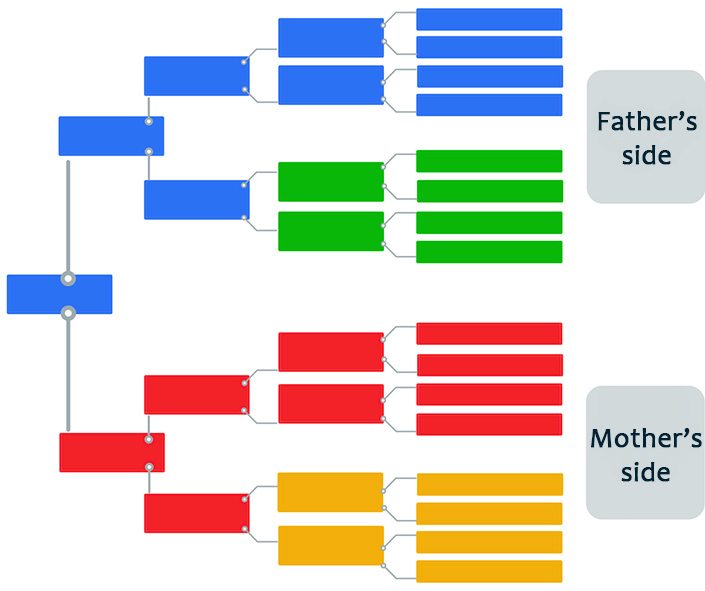 To organize all your documents properly using this system, check out these more detailed resources:
As you can see, this system is quite simple and convenient, because you're always aware of what kind of documents for what kind of relatives you have, and what areas you need to work on.
The advantage of this system is also that many programs for building genealogical trees also have a built-in coloring function.
For example, the coloring of genealogical lines in Family Tree Maker (FTM) looks like this: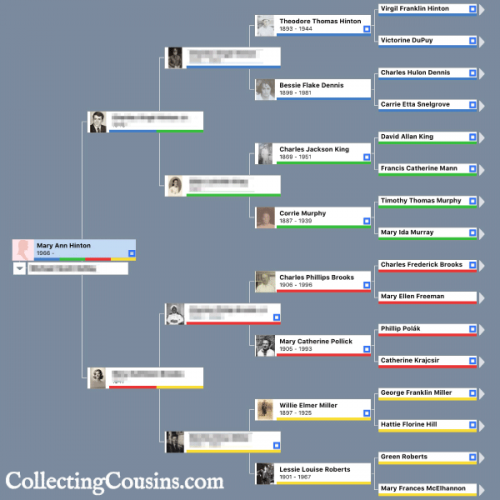 In some programs, including FTM, it is possible to add up to 4-8 colors to one relative. This allows you to not only take a relative to any line, but also to highlight the color of those who served in the army or share the same birthplace, for example.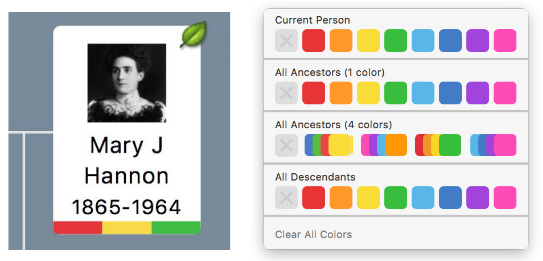 Using a program such as Legacy, you can color not only with 4 colors, but also change the color saturation or add new colors for the next generations.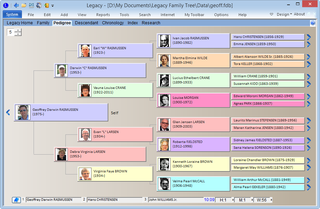 To save the specified system in your computer files, use any program that marks folders with color – for example, Folder Marker.
2. By burial
Color-coding by places of burial sometimes allows you to find distant relatives who are buried in the same cemetery, but who may seem to be unrelated. This fact will open up new directions for research.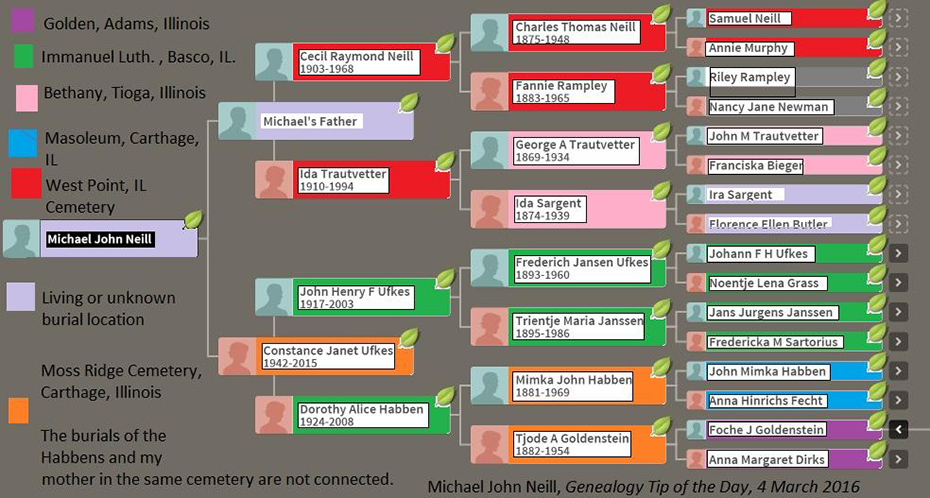 When visiting a particular city as part of your genealogical research, you will already know who is buried in which cemetery.
You can find more information about this approach here.
3. By place of birth
Have you ever seen the #MyColorfulAncestry hashtag on Twitter? Watch and discover how many genealogists use coloring using this criterion alone.
The advantage of this system is that the main trick is finding out where you're from. Where were your most distant relatives born?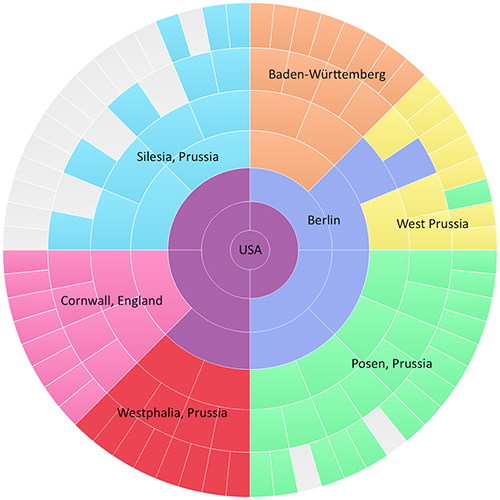 Such system allows you to see gaps in your genealogical research, to find the cities or localities where you need to dig deeper.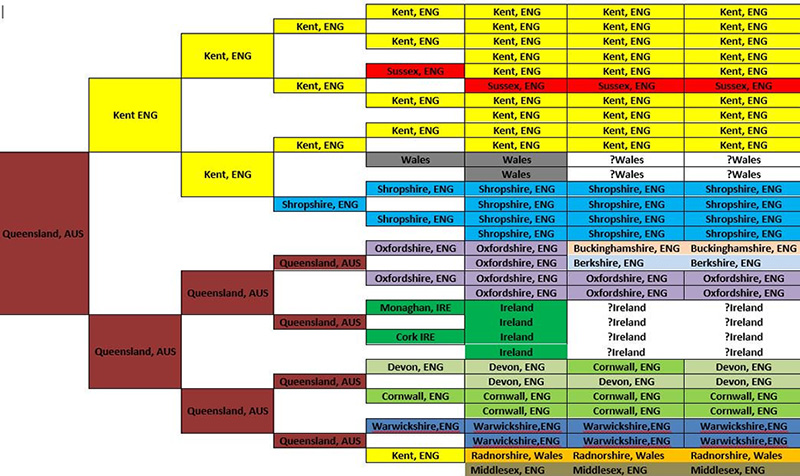 I have described only 3 systems of color coding for genealogy – but every year, more and more new approaches appear. But your options are practically unlimited. You can also develop your own methodology.
How can you use color-coding systems?
When you're trying to create a unified system for all your paper and electronic documents, it's important to make it complete, otherwise it will lose its meaning. When your documents are in multi-colored paper folders, and computer files are numbered with numbers or stored in alphabetical order, confusion may arise, when you ask yourself, (for instance), what color corresponds to which number?
No worries! This list of tools, things and programs will help you create a single structure.
1) Colored paper folders
Choose the size and method of storage, depending on the number of your paper documents.
2) Special programs for coloring computer folders
As an example, consider the program Folder Marker, because it allows you to not only change the color of yellow folders with one click, but also has a special set you can use to create whole schemes for color-coding and organization of folders.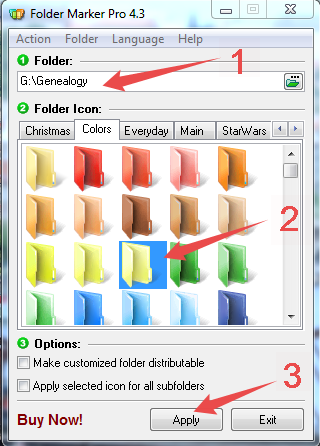 It's easy to understand this program. Just download it and install it on your computer. Then change colors in a few clicks.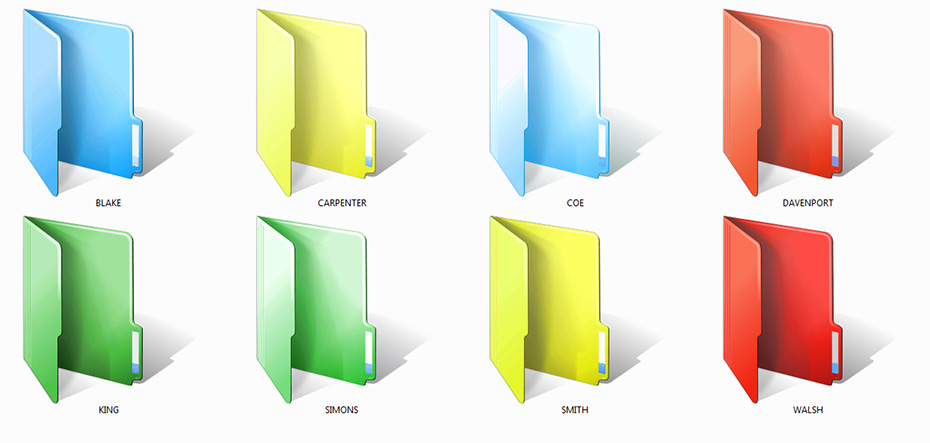 Now, finding the right folder is much easier.
This program has a special icon set for genealogists, and icons for folders with numbers, and alphabetic icons, and even a set that allows you to select folders with two colors at once.
Many colors are available, even in the free version of the program.
3) Color schemes in genealogical programs
We've already told you that many programs for building genealogical trees have a built-in color-coding function.
Some programs have functions that make it possible to see the system more clearly, in the form of a chart.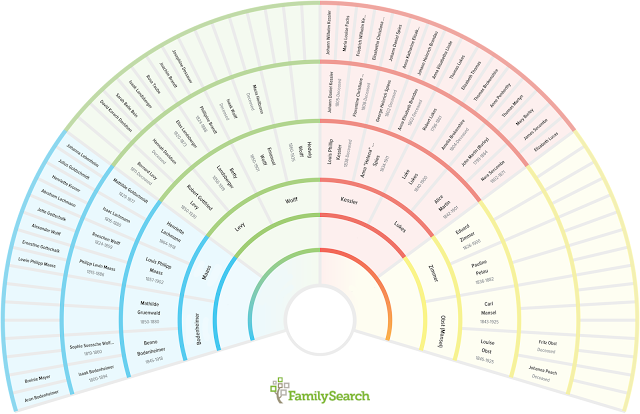 Here's another example of how you can visualize your system: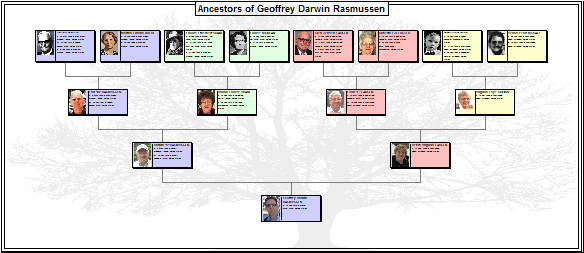 4) Special features of Google Drive
If you store files on Google Drive, it's possible to color-code them. Just right-click on the selected folder and select "Change Color." You will have 24 colors to choose from.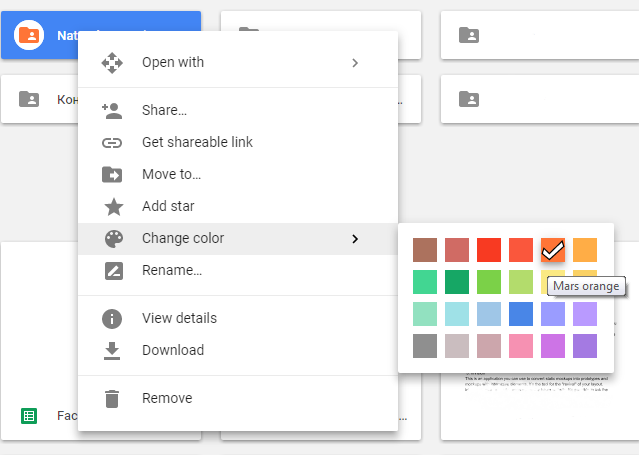 5) Color highlighting function in Excel
Good old Excel offers many useful tools – don't forget them!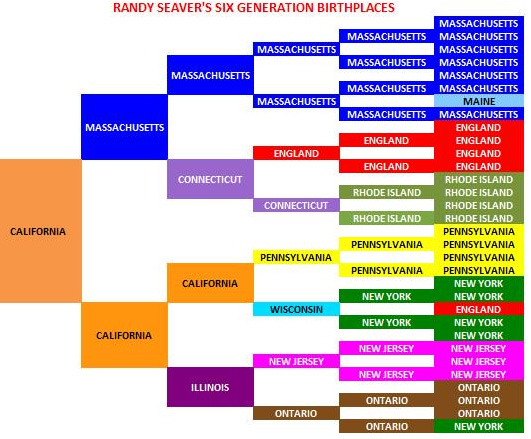 Why is color-coding the future?
As you can see, genealogical programs add new functions for marking lines with color, new products and applications help visualize data, and new directions in color-coding are being developed. All because most people are visual by nature. It has always been this way, and it will always be convenient to mark documents with color so you can find them faster. It doesn't matter; it could be a set of multicolored stickers or a computer program for painting folders. The main thing is to create a system for yourself now, because more and more files will be added every year. Without a good system, you risk drowning in the flood of accumulating information.
You will notice your genealogical research moving much faster when you start using a color-coding system:
All files will be sorted;
It will be easy to find anything;
You will immediately see what information is missing and where to dig;
It will be twice as pleasant to work when you have so many bright colors around!
So take your markers in hand – and get to work! 😉