The 4.5 version of Folder Marker was released! It became possible to work with PNG/JPG files as folder icons, the appearance of the program itself changed, bugs were fixed, and more. After the release, we received some questions from our users about version 4.5, so we decided to consolidate them all in a FAQ article.
Hope it will be helpful for you. In this article, we will analyze who has to pay for the upgrade and who hasn't, how to update/install the 4.5 version correctly, and show a video about how to use PNG or JPG files for folder labeling.
FAQ
Q: Do I have to pay for this upgrade?
A: This update is free for those who bought the Folder Marker license on August 5, 2020, or later. The update is NOT free for giveaway users.
To make sure, click Help -> About, and you will see the date until which you have free updates: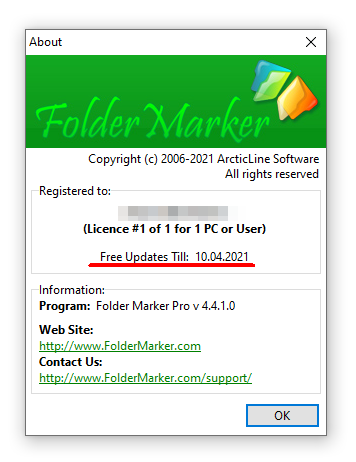 If the date you see is MORE than 05 August 2021 -> the update 4.5 is free for you. If the date is less than 05 August 2021, or you see the "Giveaway" string there, the update is not free for you.
Q: Can I try version 4.5 before deciding whether to upgrade or not?
All users have a standard 30-day trial in the new version, even if the trial time in previous versions has already passed. So go ahead, download, and try!
Q: I have version 4.4.1 and it suits me. If I install 4.5, can I then downgrade to 4.4.1?
If you purchased version 4.4.1, yes. Buying Folder Marker, you get a lifetime license for the version that was actual at the time of purchase, plus one year of free updates.
Even if the update to 4.5 is NOT free for you, you can still install version 4.5, try it for 30 days, and if you don't like it – go back to version 4.4.1.
To return to version 4.4.1 you need:
A setup file for version 4.4.1. You can download it on this page.
The registration key that you received upon purchase. You can find it in your email. If you lost it, write to our support, we will help you to restore it.

Just uninstall version 4.5 and install 4.4.1 again, there are more detailed instructions here.
Note: this does NOT apply to users of the giveaway version. The giveaway version can only be installed on the day of the giveaway, and under the terms of the promotion, you do not have free updates or the ability to reinstall the program.
Q: I paid for the update, but I still see the "Prolongate your license" window when starting the program. Why is that?
A: After you have paid for updating the license, a NEW registration code will be sent to your email. You need to enter that new code into the program, so it can see your new license. Click on Help -> Enter the registration code, and copy the code that you received in the letter into the window that appears.
To make sure everything is done correctly, click on Help -> About. In the window that appears, you should see:
That you have version 4.5.0.0 installed
Your name
That is the period of free updates for you is until 2022.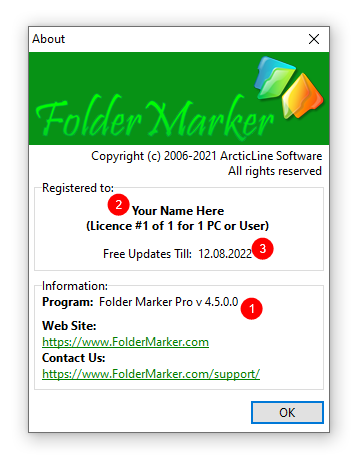 Q: I received the announcement for the new version of the Folder Marker that I urge to install. But I cannot use PNG or JPG files. Are those improvements only available for the PRO version?
A: Yes, an ability to use JPG/PNG as folder icons available only for Folder Marker Pro. This feature is not available in the Home and Free versions.
Q: I didn't understand how to use the new JPG / PNG feature as folder icons. Do you have videos on how to do this? Thanks.
Especially for you, we have recorded a short video instruction:
Q: I have a Desktop PC + Laptop license, how can I update it correctly?
A: After this question, we added a possibility to update Desktop PC + Laptop license with a discount on the page with the promotion about the update to 4.5. You should receive a link to it on your email, which you used during the purchase before.
If you can't find it, write to the support, we will send you a link.
Q: How to get 50% for my Update? I only see 40% option?
A: 50% discount is for our paid users only. If you bought Folder Marker before, you should receive a link to a special promo page for paid users on the email, which was used during the purchase.If you can't find it, write to the support, we will send you a link.
Q: When I tried to download a new update, I received a message that said: FolderMarkerPro.exe was blocked because it could harm your device. What should I do now?
A: This is a standard Microsoft SmartScreen window. It indicates that the file you downloaded is unknown to SmartScreen. This is logical because the file is new. This message disappears automatically after a significant number of users download the file.
According to our tests, the SmartScreen window is no longer shown for version 4.5. So, if you were scared of this window, and did not install the update earlier – feel free to download it now.
Q: Along with the Folder Marker, I bought several additional icon sets. If I upgrade to version 4.5, will I need to buy additional packs again?
A: No. Purchased kits should automatically appear in version 4.5 after the update.
Even if something went wrong, you can always restore your purchase. Just write to our support, and they will send you the sets you bought.
Q: I do love the Folder marker, but I think I'll have to update when the folders match Windows 11.
A: We are going to prepare folders in Windows11 style after Windows 11 is officially released.