Hi, guys! This is Roman, the author of Folder Marker.
I'm willing to share a new free icon pack created by our user. It's unusual for me to give a user-made icon pack, not a designer. The icon creation process requires much time, effort, inspiration, and talent. That's why the number of users who can create an icon set is deficient. So, I was surprised when I received a letter from Domingo C. Mariano, the author of the set, asking me to share his icons with Folder Marker users.
Glossy-Folder Icons pack is the combination of 4 separate categorized thematic packs:
Glossy ABC – a list of 34 stylish letters and numbers;
Glossy App – 44 folders with logos of popular apps;
Glossy Birthday – the 14 icon-symbols of birthday event;
Glossy Colors – 29 colors and color shades.
So, the set contains 123 icons in total. Here are they all: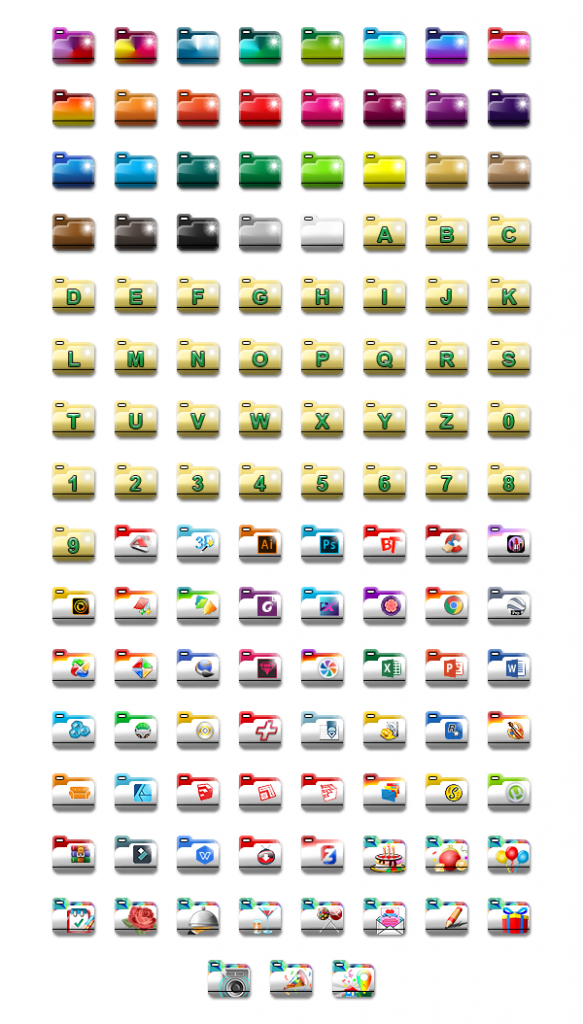 How to install and use the Glossy Folder Icons pack
The installation process is the same as you do when installing any other icon set, created for Folder Marker:
Click this link and download the installation exe file.
Open it and follow instructions on the screen.
You may see a message that the file is not signed or "Windows SmartScreen prevented an unrecognized app from starting". This is normal behavior because this exe file is new and not many people downloaded it so far.
To make sure the file is safe you can upload it to VirusTotal and make sure there are no threats.
We have done this for ourself and this is the result I got:

Glossy Folder Icons should be installed to icl folder in Folder Marker's folder (usually C:\Program Files (x86)\Folder Marker\icl)
After finishing installation, open Folder Marker and make sure you see 4 new "Glossy…" tabs. Enjoy the newly added pack 🙂
"I Created the Glossy-Folder Icons pack because I was inspired by using the Folder Marker App and by its beautiful and friendly user appearance. Some time long ago, A post from a Folder Marker user got my attention. He said that he wants something new from the folder marker app. So I think of creating new folder icons that are specially dedicated to Folder Marker users only. In this little way, Users may extend their enjoyment by adding new free icons to their Folder Marker Application."

Domingo C. Mariano III, author of the set.
Yes, the icons are home-made, the professional designer may find a lot of cons in them, but as the author of Folder Marker, I am very glad we have the user who is so interested in folder labeling so much so he creates his own icons.
I hope you will find the icons useful for you as well. Enjoy.