A good folder colorizer will make folders more visually appealing
Coloring folders are a way to organize it in a clear structure and point out the important ones. Imagine you are having blue, red, green, yellow, purple folders related to a specific task or period of your life. The yellow folders will not highlight the essential folders, but colorful marking will. How to apply a different color to folders and separate them from each other? Folder colorizer program will make yellow folders more distinct and noticeable.
The easiest way to colorize folders is to use Folder Marker program
Folder Marker program versions have inbuilt colors to adjust the folder colorizer to a standard yellow one. Free, Home and Pro versions contain the number of custom inbuilt colors. Below are the samples of colors available on Folder Marker Pro.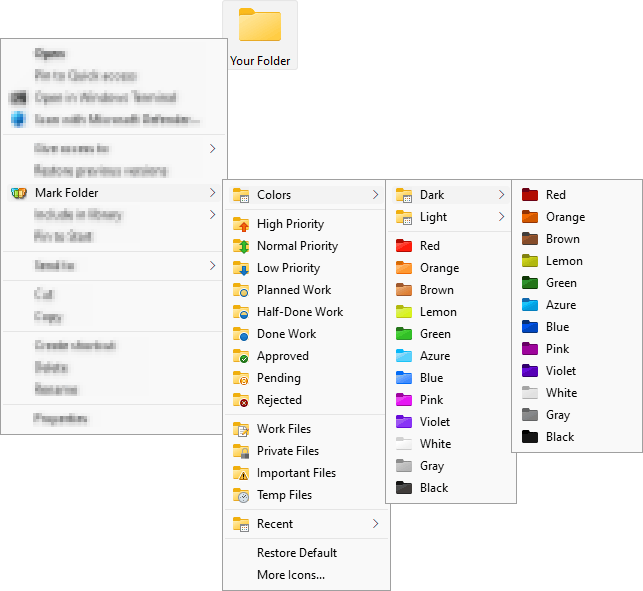 Why the Folder Marker is killing colorizer?
It will take only two clicks to change folder color with Folder Marker;
The palette of colors in the Pro version includes different shades of colors starting from light to dark. If that's not enough – simply add a custom color;
Folder Marker suggests marking folders with icons, not just color;
Folder Marker got reviewed by lots of leading tech blogs.
Two-color icons set to colorize folders with more colors
Except for the inbuilt custom colors, Folder Marker offers thematic folder colorizer sets to apply more icons. This set contains 182 icons with both full colors and color combinations. The thematic pack should be used with Folder Marker Pro because with the program you may select the color you like in two clicks only and the folder instantly becomes of that color. Thematic folder colorizer is paid (19,95$), it's even cheaper than a pizza in NY.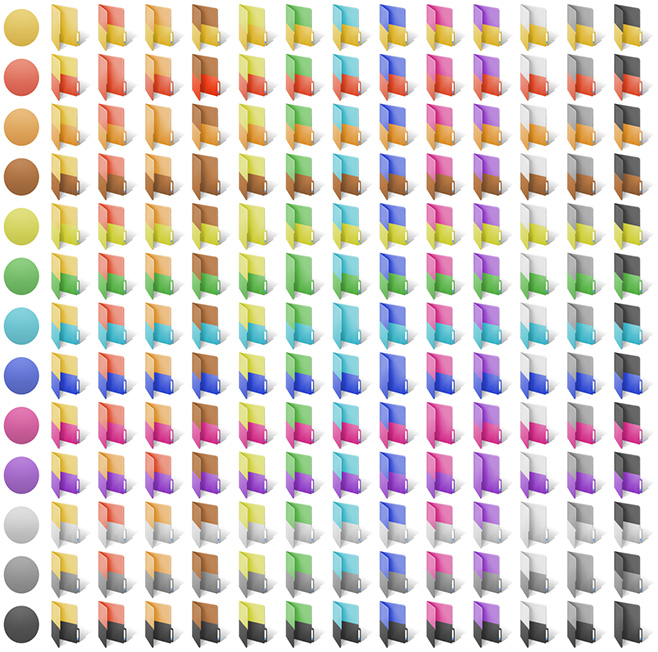 Which folders you can mark with double color folder colorizer set? For example, when you have multimedia project work and need to combine in one folder several multimedia types. Colors will diversify making and point out the folders among the number of yellow-colored.
Filter Colorized Folders
After you've applied folder colorizer, you can group now colored folders by tags.
Tags feature available in Folder Marker 4.4, where each colored folder has separate tags' name. This feature is a perfect addition when you want to:
reach the ideal folder structure;
know the total number of red or yellow folders you have;
prioritize folders and need to count the number of high priority ones.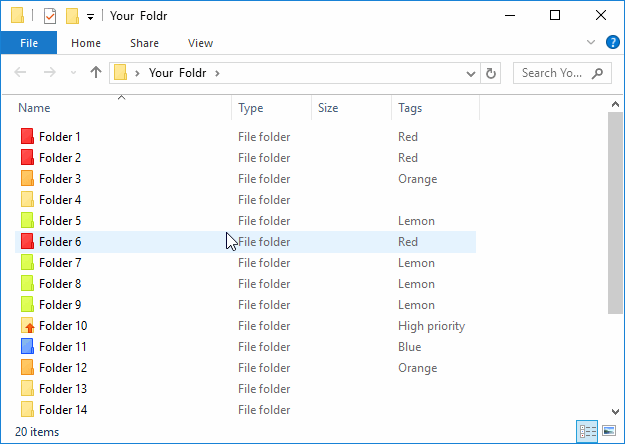 Try Folder Marker 4.4. Now, to test out the features
We hope this article helped to reach the best folder colorizer structure on your desktop. Subscribe to our newsletter and know first about the latest updates. Moreover, we sometimes share free thematic icon packs for subscribers only, don't miss it out.